DEEP currently serves 5 partner schools, attended by over 1,600 students in grades PK-3.
With each passing year, DEEP intensifies its focus on a subset of schools. We like to say, we are an inch wide and a mile "DEEP." Our goal is to provide comprehensive supports that simultaneously address the multiple roots of the challenges facing students and families in the Diamond Community of southeastern San Diego.
Getting books out into the community
DEEP distributed over 3,000 books as holiday gifts through 5 partner schools such as Balboa Elementary School, Horton Elementary School, and Diamond Neighborhoods. Thank you SDCOL for the books!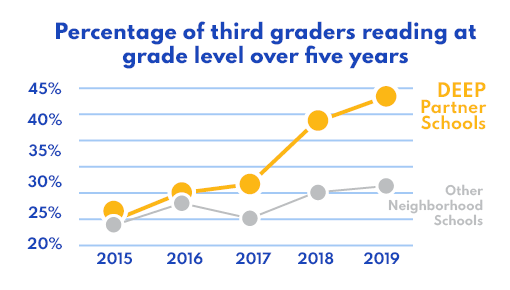 The graph reveals the impressive growth in the performance of 3rd graders at those partner schools with the most comprehensive DEEP supports.
2019-2020 Annual Report
For the benefit of our partners and supporters, DEEP compiles and publishes an annual report detailing the positive impact our programs have on our partner schools and communities. Read our most recent annual report here, and learn about our legacy in our previous reports below.